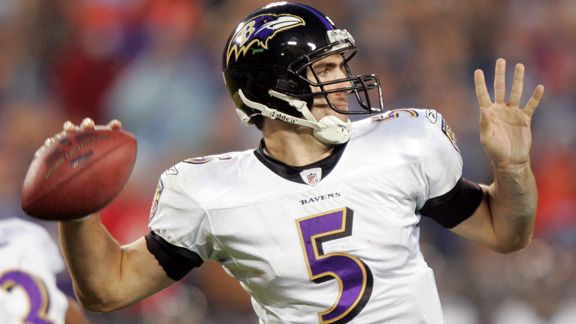 AP Photo/Wade Payne
The Ravens have advanced to the AFC Championship game
and await the winner of the Chargers-Steelers.  The Ravens are indeed looking like the team no one wants to play in the playoffs.  In 2 games, they have forced 7 turnovers, with
0
turnovers committed.  That D is mean. 
Game insights
The Titans got the memo on Ed Reed.  Alot of the routes were slants or comebacks.  They did not go deep. 
Flacco is now officially Joe Cool.  This kid looked like he was gonna fall asleep in some of the biggest stages of the game.  First rook to win 2 NFL playoff games. 
Ball security, gentlemen, ball security.  Put the top on the pot. 

Being the #1 seed may not be that good of a thing anymore.  Momentum is hot, a week layoff is not. 

Justin Gage (Mizzou player, boooo!) had a huge day.  At least 9 grabs for over a 100 yards.
The red zone is for scoring not for turnovers.   

It feels eerily similar to the Ravens' Super Bowl Championship run. 
Powered by ScribeFire.